19th August 2016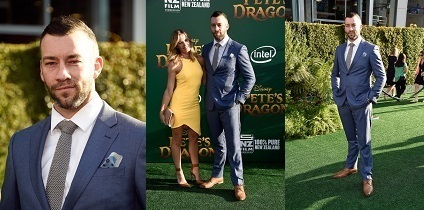 GCM's Aaron Jackson, who plays Abner in Disney's re-imagining of the cherished 1977 family flick Pete's Dragon, was looking very dapper at the film's premiere in LA recently.
The film, which the Guardian praised for "its first rate performances", is the latest in a string of international credits for AJ. He recently finished shooting on the second series of Netflix's Marco Polo, and can be seen alongside Tommy-Lee Jones in feature film The Emperor, and as Octavius Tarsus in Spartacus.
AJ is currently on Kiwi screens as Shortland Street's bad-guy Hayden Morris and Cannonball on Westside series 2.
Other GCM actors in the film, released in New Zealand September 15, include Steve Barr, Phil Grieve, and Jade Valour.