18th July 2019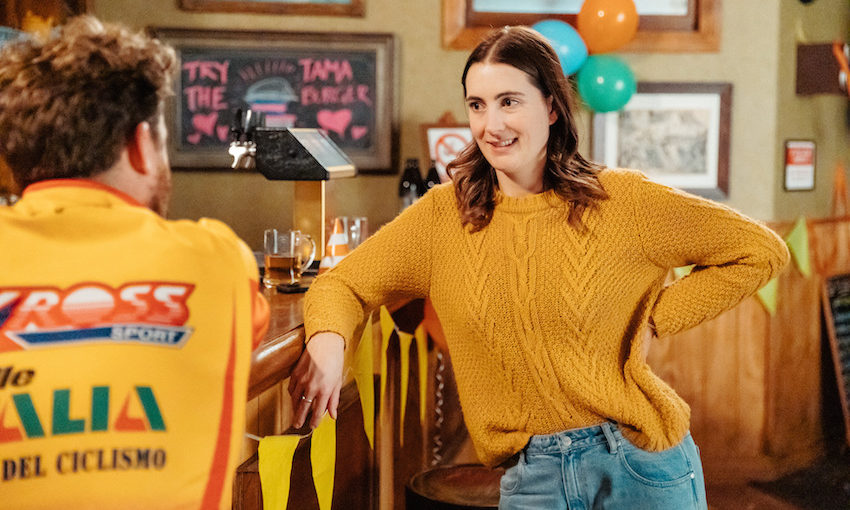 Laura Vincent reviews Golden Boy, a new sitcom from Three skewering small town New Zealand and the colourful characters who populate it.
From Twin Peaks to all the shows that copied Twin Peaks, small towns have long been fertile ground for television to explore the dynamics of a quirky, close-knit community. New Zealand has an abundance of small towns, each with their own regional heroes, outcasts, meeting places and unspoken laws. Thanks to Golden Boy, the second successful pilot from Three's Pilot Week, the fictional town of Crawdon is set to become one of our most famous.
The Golden Boy himself is Tama (James Rolleston). He's an All Black, and everyone in Crawdon, his hometown, is delightedly basking in his reflected glory. Everyone except his older sister, Mitch (Hayley Sproull), who's returned home from Auckland to find that the long shadow Tama casts over Crawdon is a cold place to stand.
The show begins promisingly with an in-universe TV commercial featuring Tama endorsing "Ghost Vapes". Besides being an accurate satire of New Zealand advertising's intense veneration of rugby stars, vaping is just inherently funny. "Ghost Vapes are available in tobacco, woodsmoke, and hāngī flavours," narrates Tama sincerely, "Ghost someone today!"
Even though Tama is the flashy title character – quite literally, as demonstrated by a sexy Skype call that he misdials to the family home – Mitch is clearly the show's heart. The Golden Boy himself is primarily represented by an ever-present cardboard cut-out ("It's casting a big shadow on me" complains Mitch, kindly corroborating my metaphor) promoting the vape pens that the good people of Crawdon are only too happy to consume with community-minded gusto.
Unlike her brother, Mitch is struggling. She messed up an opportunity to write for the Herald, she can't communicate with the hot Australian guy who used to be her teacher, and she's massively unfulfilled writing for the local paper, whose cover story reads: "Vaping cures cancer?". Mitch gets as far as a speed-dating session at the local pub, which is predictably unsuccessful but a useful device to introduce many colourful locals simultaneously. By the episode's conclusion she's not not much further along than when she started, but some wheels appear to have been set in motion at least, with Mitch's younger sister Kahu kindly telling the Australian guy not to give up on her.
Mitch's particular type of relentless awkwardness is a familiar trope in modern sitcoms – think Liz Lemon in 30 Rock or Jessica Day in New Girl – and I'll be curious to see if there's something darker behind it or if she's simply awkward because the show needs her to be. Let me be clear though: Hayley Sproull gives a fantastic performance as Mitch, conveying her frantic exasperation at this suffocating small town where everyone knows that she's the type to "freak out and bail in a way that's ultimately self-destructive".
Kimberley Crossman is also wonderful as ebullient bartender Lisa. Her solemn "I have a very light step" as she startles Mitch by appearing out of nowhere is brilliantly delivered. Madeleine Sami is great fun as Claire, an abrupt, sensibly-dressed local who sincerely greets Tama's cardboard cutout with "Kia ora, Tama… beautiful man," followed by a curt "Kia ora…Tama's sister?" to a hapless Mitch.
Erana James as younger sister Kahu has a chill gravitas that's a great contrast with the more jumpy Mitch, and Alison Bruce and Rima Te Wiata attack their roles as the siblings' lesbian mothers with brisk maternal vigour. After Te Wiata cheerfully suggests "four very well-done steaks" for dinner and Bruce sternly refers to a mismatched mug collection as the children's inheritance, their attempts at what Mitch refers to as "passionate, problematic sex" feel believable and earned.
Golden Boy can be very broad – it is a sitcom – but there's an inherent cheerfulness to it, and that energy is massively appealing and really propels the show forwards. The jokes are rapid-fire, and those that land a little heavier are still delivered enthusiastically, while those that are good are genuinely hilarious. The characters, their costumes, their props, and the sets they inhabit feel admirably lived-in and comfortable, as if this could be any week in the life of Crawdon and we just happen to be witnessing it.
Many great TV shows have patchy pilots. Some, like Parks and Recreation or Blackadder, take an entire maddening first season before they settle into themselves. Golden Boy, however, is already off to a remarkably confident start. This show is replete with talent on both sides of the camera and I'm sure it's only going to get even stronger as the series unfolds.
The concept of a local kid who did good is a solid starting point for a series. Indeed, what are anyof us in small towns doing but waiting for the day when we can claim some peripheral connection to a mighty All Black? Knowing someone great walked barefoot down that same muddy road to school as you, knowing there's a world beyond the horizon if you're built like a fridge and can move like a greased fridge, feeling that shared pride, warmed by the light of their glory… or at least, that's how I imagine it since, aside from the bare thighs, rugby's appeal remains a mystery to me.
Unlike the countless, often interchangeable sitcoms emerging annually from the US, New Zealand comedies always seem weighted with responsibility and patriotic anticipation, much like a young All Black. The wonderful thing about Golden Boy is that it has what it takes to be good in its own right – not just good for something from a small place.